The leadership of CSI is guided by two fundamental principles.
1. We are completely committed to the Word of God as our one true basis of doctrine.
2. We acknowledge that we are but servants of Christ, subject to His guidance, control and blessing of His Holy Spirit.
CSI's leadership believes that every victory that awaits CSI will be the result of God's mighty power and life-giving Word.  The strength of CSI is in its devotion to God's Word and in God's servant leadership.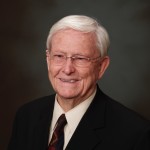 Brother Bill Davis is founder and president of CSI.  The president, lovingly referred to as Brother Bill, is recognized by all who know him as a "great man of God."  He lives the vision and mission of CSI every minute of every day.  He uses his experiences and love for God and all people to guide CSI through Christ-centered strategic plans while getting help and input from strong believers around him.
Dr. Ted Lindwall, Advisor to the CSI President.  Dr. Lindwall was a church starting Southern Baptist Missionary (IMB) to Guatemala for 37 years.  During his years of service God blessed his work in many ways.  Dr. Lindwall opened Baptist work among the Kekchi Indians, which now counts 35,000 members.  Upon retirement, he joined CSI and has willingly helped CSI with its church starting printed materials, having written for publication more than 40 booklets used in church starting, witnessing to the lost, and Bible study.  These materials have been translated into 13 languages.
Dr. Jerry Raines, Vice President for Resource Development
Dr. Raines, married to Sue Ann, Bro. Bill's middle daughter, was elected as Vice President of CSI in 2014. He is a retired pastor who has been involved in the ministry of CSI since its beginning.  Dr. Raines began pastoring in 1971 and pastored four churches in Texas: First Baptist Lometa, Live Oak Baptist Gatesville, Canyon Creek Baptist Temple and Hampton Road Baptist DeSoto. Dr. Raines has led CSI projects and training in many countries, including Romania, Moldova, Spain, Mexico, Brazil and Paraguay.
His task with CSI currently is two-fold:  1. To develop connections where US churches can serve; 2. To develop relationships by meeting and sharing opportunities with pastors and mission leaders of churches helping them have successful, productive mission trips that will continue through the CSI on-the-field follow-up strategy. He will help them plan and set goals, share about CSI materials, do training and orientation, keep in contact through the mission trip and help with follow-up at home and on the field.
CSI's Board of Directors.  The 23 member Board of Directors is comprised of Christian brothers and sisters from 6 states and a variety of professions.  The Board meets two times annually to set policies, give direction to the organization, and set priorities for service and use of resources.  It is a group of Christian brothers and sisters who are dedicated to the vision and mission of CSI and who demonstrate an awesome love for the Lord.  The Board also evaluates the progress of CSI and performs oversight functions for programs and use of funds.  CSI is a USA non-profit, tax exempt organization (501)(c)(3) of the IRS.  It operates from an approved action plan and a faith-based annual budget.  Several members of the Board of Directors lead mission teams on behalf of CSI.